Felling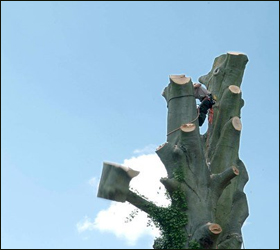 Tree felling is not a service we like to emphasise, but we do realise that all trees will have to be felled at some stage due to death or structural integrity being compromised. Safe controlled removal of the tree is undertaken at all times, either the tree being dismantled in small sections or in certain situations felled in once and the cut up and removed once on the ground.
After a tree has been removed you have several choices in regards to the stump it can be left, we are able to poison it for you or even remove the stump.

All wood and woodchip removed from a tree is than recycled in various ways, ranging from woodchip on flower beds, to producing logs for those open fire users.
Notably you can even keep the arisings for your own uses.
Get in Touch
Would like a quote, or just wish to enquire about a matter of interest than give us a call.